Ashes Under Water is more than just an expert and intense dissection of a notable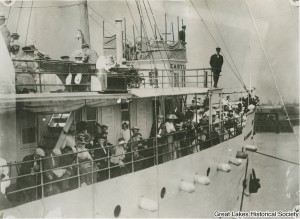 and heart-wrenching tragedy—it's a compelling and well-written portrait of an era.
James Carl Nelson, Author, The Remains of Company D: A Story of the Great War and Five Lieutenants
---
The pacing and coverage of parallel stories create a reading experience that is absorbing and accessible.
Ashes Under Water is carefully researched yet compellingly told and combines the appeal of famous historical figures and places with everyday men and women struggling to survive. In this thoughtful treatment, the Eastland's story will deservedly capture the sympathy and imagination of diverse readers.
Foreword Reviews
---
 Thanks to McCarthy's extensive reporting and clear prose, we now know exactly how and why this fascinating story was willfully obscured and long buried. McCarthy has done not only American history a huge favor, he's given voice to the hundreds of unfortunate souls who so tragically lost their lives at the hands of a powerful few.
David Mendell, Author, Obama: From Promise to Power
---
This is a tour de force from an enormously gifted writer.  In quickly sketched chapters McCarthy depicts a mysterious early-20th-century shipping disaster—the weather, the moguls, the greed, the ads, the hundreds of working people setting out for a picnic who ended up in a makeshift morgue.  The second half of the book brilliantly tracks the legal maneuvering and the murky trial.
Ashes Under Water is prodigiously researched and richly imagined.  McCarthy's vivid images kept bringing me back to our own contemporary society with its increasing disparity between the middle class and the powerful rich.
Jeanne Murray Walker, Author, The Geography of Memory    
---